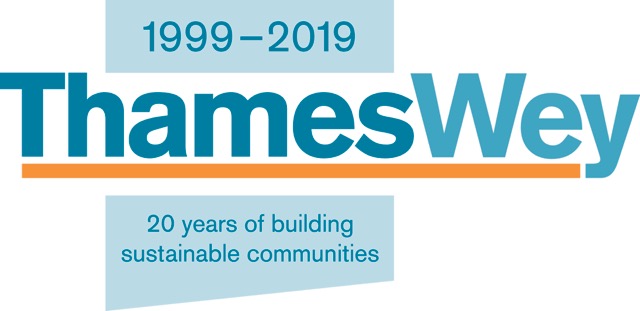 ThamesWey is 20 this year and proud to be celebrating two decades of building sustainable communities. Our work in low-carbon power generation, energy advice, affordable housing and property development is driven by one fundamental principle – to build neighbourhoods that benefit everyone.
Every project we undertake is driven by a passion to create communities, where anyone can find a place to call home, where trade can thrive and people can prosper. Our strategy is to consider the community holistically, where people live and work, how they travel, their energy needs and their impact upon the environment. For us, it's about the world we all share and this belief has underpinned everything we've achieved so far.
But the group won't be resting on its laurels. Its 20th year is a pivotal one in the company's evolution.
From modest roots focusing on environmental projects and locally-generated energy, ThamesWey has grown to become a property developer and one of Woking's biggest residential landlords, helping to meet the urgent need for new and affordable homes.
This work is all part of ThamesWey's mission to help deliver the council's Woking 2050 strategy that aims to create a borough that is sustainable by reducing the impact on our environment. We believe that communities only grow and prosper if they are nurtured.
How it all started
ThamesWey was set up in 1999. Its low carbon and environmental objectives were prompted, in part, by the Rio Earth Summit and the subsequent Local Government Act 2000 which enshrined the creation of sustainable communities as a duty.
By 2001 ThamesWey's gas-fired energy station began to provide heat, cooling and power to buildings in Woking town centre. Other projects that year included the installation of solar panels on sheltered housing at Brockhill. The following year saw the launch of the UK's first commercial fuel cell heat and power plant at Woking Park. By 2005 ThamesWey was branching out beyond the borough, developing an energy plant in Milton Keynes.
In 2009 the ThamesWey marked a milestone as landlords, buying our 100th property for rent in Woking. Our consultancy role also expanded to give impartial energy advice to households, schools and businesses helping them save money and reduce CO2 emissions as part of Action Surrey. Projects continued to grow in size, including connecting Woking's WWF Living Planet Centre and The Peacocks Centre to ThamesWey's energy networks in 2013.
But it's not just the big jobs that excite us…
ThamesWey invited residents to workshops where they could build nesting boxes as part of the Swifts in Woking project which aims to reverse the decline of these iconic, endangered birds. Participants spent half a day with an experienced craftsman and left with a wooden nesting box that they can install at home.
Here's to the future
ThamesWey is involved in some major schemes. One of the biggest is Canalside. It involves regenerating Sheerwater, replacing 1950s properties with more than 1,000 new homes, half of which will be affordable housing. The energy-efficient buildings will be for rent and sale and cater for residents at all stages of life. They will be built in neighbourhoods around a central parkland area – the development's "green heart".
Harrington Place is a landmark development of 147 contemporary apartments for rent and sale in Woking town centre which is nearing completion. Anyone renting there will qualify for ThamesWey's Earn Your Deposit scheme that helps tenants save towards a deposit to buy their own home.
And the go-ahead has been given for a new energy centre in Poole Road. It will provide low carbon heat and power for businesses, shops and homes for a generation.
A team effort
ThamesWey CEO Mark Rolt says: "I'm really proud of what ThamesWey has achieved in the last 20 years and that it is a real testament to the passion and hard work of the whole team."
ThamesWey non-executive director Dr Barry Maunders believes energy and the environment will shape ThamesWey's future. He says: "With the world trying to cut CO2 emissions, I think it's fair to say that ThamesWey's founding principles are as relevant today as they were 20 years ago – if not more so."