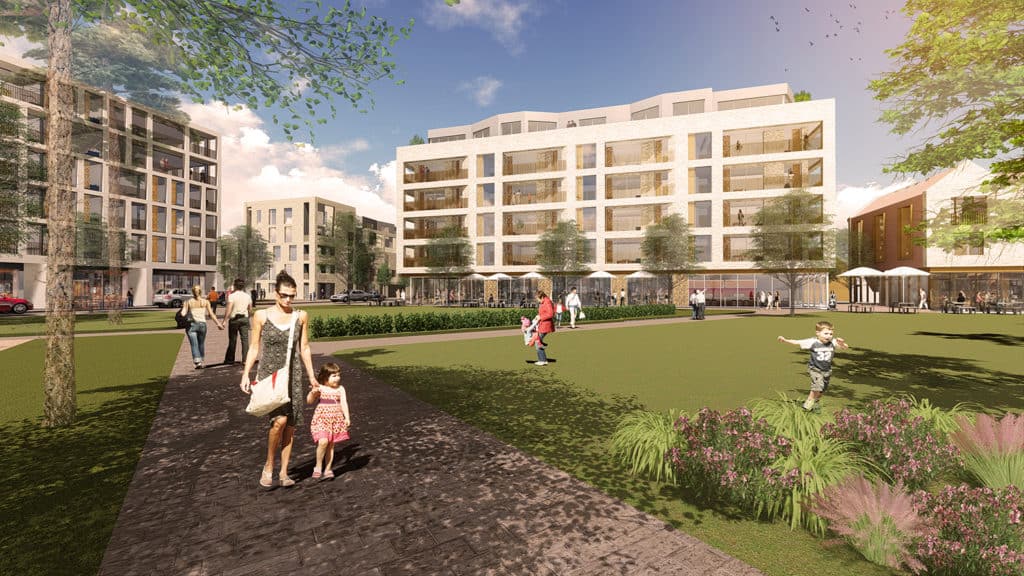 Things are happening on the Sheerwater estate as the long-awaited work begins on the Canalside regeneration that will transform the area and create a more vibrant and sustainable community. Here, we share our vision for what Canalside will look like – and be like to live in.
For anyone that has been around the Sheerwater estate lately, it is impossible to miss the changes taking place. Properties across the estate are being secured and boarded up as they become vacant, ready for demolition and then the beginning of construction.
It marks the start of a massive regeneration project that is the result of years of planning, discussion and consultation. You can see the vision for Canalside here:
The regeneration work will take place in phases so that people can continue to live in their existing homes until the new ones start to become available.
Canalside will comprise several neighbourhoods with distinct identities, offering a range of houses and apartments of different sizes, from one-bedroom studios to five-bedroom houses. The emphasis is on family-sized properties designed to offer flexible accommodation with the potential for adaptation to meet specific needs.
Development of the 74-acre (30 hectare) site will take place in phases, to minimise the disruption to existing residents and services.
The result will be many more much-needed homes that are well-designed, spacious, modern and energy efficient. There will be better use of open space, with a large central park and 'green streets' that bring nature within reach of everyone.
Canalside is a 30-hectare development that will see the number of homes double from 570 to approximately 1200. The new homes will be built around a new community hub featuring shops, a doctors' surgery, nursery and community centre.
Mark Rolt, ThamesWey's Chief Operating Officer, said: "This is an exciting moment as the regeneration of Sheerwater gets underway after so many years in the planning. Along with our architects, engineers and planners, we have put a tremendous amount of thought into the design of the homes and other buildings as well as the landscaping of the open spaces. Canalside will be a fantastic place to live and an example of a community in balance with the environment."
We will be publishing more news about progress on the Canalside development as it happens, so check back to keep up to date.