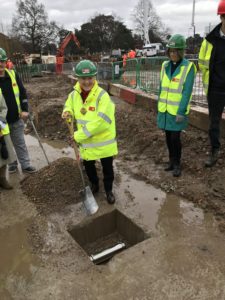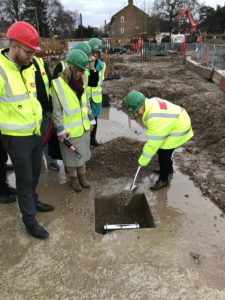 Yesterday, 19 December 2019, the Mayor of Woking, Cllr Beryl Hunwicks placed a time capsule within the first residential phase of the Canalside regeneration project in Sheerwater.
The ceremony, hosted by Gilbert Ash the contractor building the first residential phase, took place with members of the local community, including both the local Church and Mosque, who had contributed to the time capsule.
The time capsule, a bespoke 16-inch stainless steel canister, which was provided to the Mayor by ThamesWey Developments as the developer for the Canalside project, was filled with items provided by the Mayor and local community to commemorate local activity and history. The contents, which include local news articles and the current British coinage, aim to allow future residents of the area to gain an insight into the local community of 2019 when the time capsule is unearthed in the future.
It is not expected that the time capsule would be unearthed for at least 75 years, possibly many more, so the contents have been laminated and the capsule securely sealed. The time capsule is guaranteed to last for 200 years and has been buried in the concrete foundations of the building to add further protection. The location has been logged with a GPS reference to aid future historians to locate it.
The Mayor used a commemorative presentation shovel to cover the time capsule in pea shingle prior to Gilbert Ash pouring the concrete cover to ensure that it can be removed in the future and the capsule isn't bound to the concrete.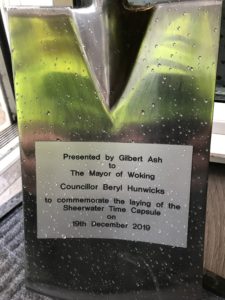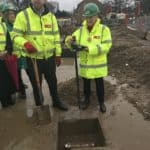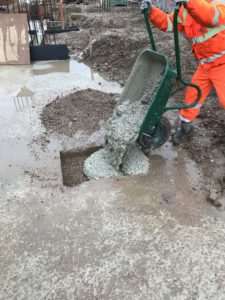 ThamesWey Developments will be facilitating a number of time capsules throughout the development for posterity. The next ones will be installed as part of the Leisure Complex in partnership with the local schools.