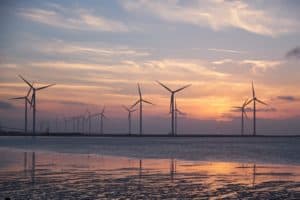 ThamesWey has appointed Ørsted, the global leader in offshore wind, to provide top-up electricity to our networks in Woking and Milton Keynes.
For all ThamesWey supplied sites in Woking and Milton Keynes, the electricity bought from the grid to top-up that generated by our energy centres is now 100% renewable, generated by offshore wind farms.
This new supply arrangement represents a further step towards our energy being 100% renewable and complements what is generated by our solar panels, which last year provided 1244 MWh of electricity.
The change is also part of our founding commitment to environmental sustainability and is another step towards a carbon neutral future for Woking.
Mark Rolt, ThamesWey's Chief Executive Officer, said "we are thrilled to have changed our supply arrangements for top-up power to a 100% renewable electricity supply and to be partnered with Ørsted, a company who shares our ambition to transition to sustainable, zero-carbon energy."
Ashley Phillips, Managing Director at Ørsted Sales (UK) Ltd said: "Sustainability lies at the heart of ThamesWey's activities, so we're delighted to supply them with 100% renewable electricity. At Ørsted, we want to drive the transition to low-carbon energy systems in the UK, and support organisations like ThamesWey that share this commitment and drive to create a greener energy future."
About ThamesWey:
ThamesWey is a company wholly owned by Woking Borough Council, established in 1999 to drive the Council's ambitious carbon reduction and climate change targets. ThamesWey has been operating a combined heat, power and cooling energy centre in Woking since 2001.
About Ørsted:
The Ørsted vision is a world that runs entirely on green energy. We develop, construct and operate offshore wind farms, bioenergy plants and innovative waste-to-energy solutions. We provide businesses with green energy solutions, from renewable gas/power supply, through to long term wind backed Corporate Power Purchase Agreements and trading services. Find out more at orstedbusiness.co.uk.