ThamesWey has seized the opportunity of two recent developments to implement biodiversity enhancement measures in Woking Town Centre.
The recent completion of the Middle Walk Town Centre Development has transformed the leaky, ageing building into 47 highly energy efficient and modern apartments. Part of this refurbishment included installing around 500m² of green roof, with both intensive and extensive sections, and balcony planters forming a 10m tall green wall of wildflowers, shrubs and grasses.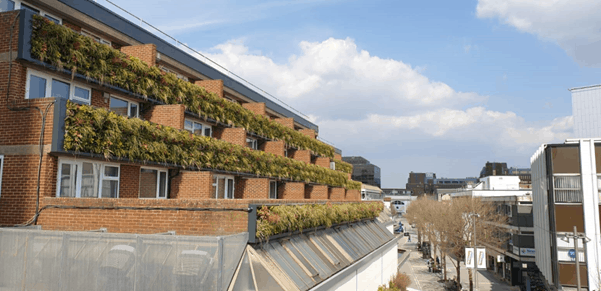 Toward the eastern side of the town centre, the 'Cornerstone' office has also undergone an extensive renovation converting the office into 94 apartments. Over 100m² of green roof is a feature of this redevelopment, which is due to be completed Autumn 2021.
This form of urban greening supports Woking Borough Council's 2050 sustainability strategy for its biodiversity credentials, but also because of the energy-saving impact of these installations. In the summer, the green roof and walls shade the building, which reduces the temperature of the building fabric and mitigates the risk of overheating. In the winter, the insulating properties work to retain heat within the building, therefore reducing the amount of energy the occupants need to use to warm their homes. This makes for a comfortable and affordable place to live.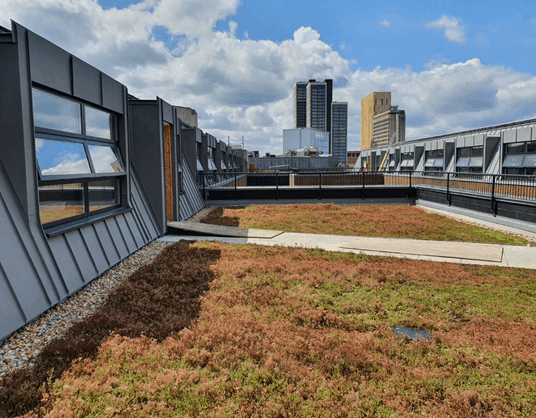 Green roofs and walls are not only of value to the building occupants, but also benefit the local community around them. The plants add aesthetic value to the local area, increasing feelings of wellbeing. The variety of plants used range from shrubs such as Bell Heather, Dwarf Gorse and European Blueberry to wildflowers like Knapweed, Cowslip and Ox-Eye Daisies, and climbers including Hart's Tongue Fern and Morrows Sedge. These attractive plants contribute to improving the biodiversity within the town centre, providing habitats for small invertebrates and a food source for birds.
The plant layers have the ability to improve local air quality by trapping pollutants as well as capturing and storing carbon dioxide, in a process known as carbon sequestering. The green wall at Middle Walk alone is capable of sequestering an estimated 830kg of carbon a year.
Urban greening also benefits the community in times of extreme rainfall. The plants and soil act to slow the speed at which rainfall enters the drainage system, reducing the risk of flooding during times of highest precipitation.