ThamesWey's long-standing domestic energy efficiency project, Action Surrey, has reached a major milestone after completing the 500th energy efficiency measure installation as part of its 'Green Jump Surrey' scheme.
The Green Jump Surrey initiative launched in late 2020 after Action Surrey was awarded £9.3m of funding to deliver home energy efficiency retrofits from the Department for Business Energy and Industrial Strategy (BEIS) 'Green Homes Grant Local Authority Delivery' scheme.
The fund has helped over 400 Surrey households to receive the energy efficiency measures most suitable to needs of their property, with many more Surrey residents set to benefit. So far, a projected £100,000 will be wiped from fuel bills each year with the average household saving £249. This is almost 5,000 kWh of energy or 1.7 tonnes of carbon dioxide emissions, saved per household.
Green Jump Surrey enabled eligible low-income households to claim up to £15,000 per property to winter proof their homes and slash fuel bills. A wide range of energy efficiency measures were available to reflect the varying needs of Surrey's housing stock. These measures include insulation for solid walls, cavity walls, lofts, park homes and floors; renewables, low carbon heating systems and more.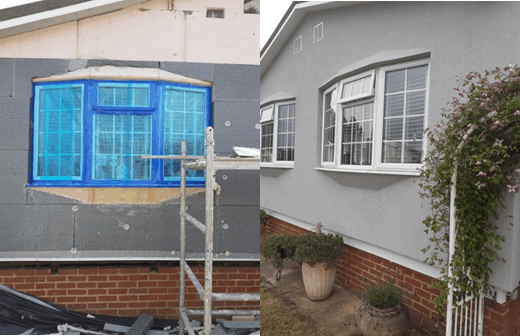 Action Surrey is delivering the Green Jump Surrey initiative on behalf of a consortium of 10 Surrey local authorities, led by Woking Borough Council. Surrey County Council also plays an important role by contributing £680,000 of top-up funding, which allowed some of the higher cost measures to be fully funded up to £15,000. It is the largest energy efficiency project ever to be delivered by Action Surrey and follows over eight years of successful partnership between the local authorities.
Similar projects exist in other areas of England, however the latest statistical release from the government shows the Woking Borough Council consortium as 2nd nationally in terms of households that have been upgraded through the Local Authority Delivery scheme. ThamesWey and Woking Borough Council are proud to have made Green Jump Surrey such a success locally and nationally, particularly in light of the challenging conditions facing the construction industry this year.
Success has also been measured using the standardised rating system for domestic properties – the Energy Performance Certificate or 'EPC'. These certificates score a property on a scale from A to G, where A is the most efficient with cheapest fuel bills. EPC ratings improved for many of the properties involved in the scheme, with 100 now achieving a C rating or higher, having previously been rated E or below.
Action Surrey's team of energy advisors were on hand to help Surrey residents throughout the entire process, from checking their eligibility for the scheme and sourcing quotations for the work from trusted installers, through to checking the promised improvements in home energy efficiency have been achieved.
Whilst the scheme is closed for new applicants, home upgrades are still ongoing and many more Surrey households will benefit from Green Jump Surrey before it closes fully at the end of this year.
Many satisfied residents have already reached out with positive feedback on the scheme.
Mr Bird received loft and cavity wall insulation as well as a solar hot water system. This improved the property's EPC rating from an E to a C. "The Green Jump Surrey funding process was well informed and very clear…the benefits of the measures as assessed has raised the energy efficiency rating of my property. Overall, I am very pleased with the whole process and the help given to me".
Ms Stevens, who received underfloor insulation and solar PV panels, noted "It is a delight for me to open the cupboard door and see the light on the PV system operating and knowing I am producing some of the electricity I am consuming".
Ms Fairman had underfloor insulation installed "My very chilly sitting room is definitely warmer… Thank you to Green Jump Surrey for enabling this amazing new AI technology to help insulate my home".