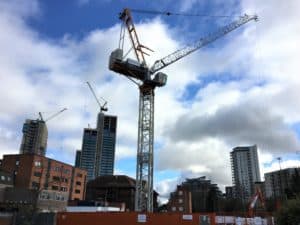 The below time-lapse video has been created to show Woking's new low-carbon energy centre on Poole Road coming out of the ground.
February-September 2020:
ThamesWey, together with construction partner Galliford Try, broke ground on the £20m combined heat and power energy centre in Poole Road in January.
Construction of the foundations started with putting 149 concrete piles into the ground. Once the 20m deep concrete piles were in place, the main concrete foundations started to be dug out up to the ground floor slab level.
With the foundations in place, the two-storey energy centre with one floor of office above could start to take shape. Galliford Try completed the shell of the building in the summer and the energy centre was topped out in August. Work on the interior fit out has commenced.
The whole development is anticipated to take 14 months to complete and is part of the vital infrastructure enabling Woking to grow sustainably.
Once complete, the first customers to receive the generated low-carbon heat and power will be the new Hilton hotel, shops and over 400 apartments which form the new Victoria Square development.
With the capacity to supply other future developments in Woking town centre, the new energy centre has been designed to generate enough heat and power to supply the equivalent of over 2,500 homes for the next 50 years. Despite its practical purpose, the building has been designed to provide a distinctive feature visible from the main railway line, with its large, orange thermal stores forming a striking new landmark as well as providing an efficient way of storing heat to supply customers at times of peak demand.
With Woking's 2030 carbon neutral future in mind, the energy centre has been designed to incorporate green energy technologies to further reduce Woking town centre's dependence on fossil fuels and is a vital part of the new infrastructure enabling Woking to grow sustainably.