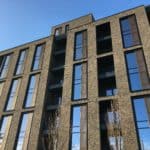 ThamesWey's contractor Galliford Try completed construction of Harrington Place in February 2020. The site was handed over to ThamesWey with the new properties released straight onto the market for rent.
The landmark residential development consists of 147 stunning self-contained flats and 493 sqm of commercial floorspace. Upper floors boast amazing views over the surrounding countryside and to the London skyline in the distance. All residents will be able to enjoy these incredible vistas from the communal rooftop garden.
In line with ThamesWey's commitment to sustainability, the architecturally striking building on Heathside Crescent was built to minimise carbon emissions and support sustainable living.
The new building has been constructed of high quality traditional grey brick with large, high performance glazing and bronze coloured detailing. All units are fitted out with high quality, energy and water efficient kitchens and bathrooms and individual room thermostats.
With the average calculated U-values, for the walls being 0.15 W/m2K; the roof 0.16 W/m2K; and the floor 0.10 W/m2K, all exceeding current building regulations, the apartments have been built to minimise heat loss and associated carbon emissions.
Each apartment is connected to the community heating and hot water scheme which has been built ready to connect to ThamesWey's new low-carbon energy centre at Poole Road. Solar-photovoltaic panels have been installed on the roofs and all light fixtures use LEDs.
The energy efficiency measures combined have resulted in each apartment receiving an Energy Performance Certificate rating of a B.
The location itself is also highly sustainable, allowing easy walking access to the train station for an easy commute and to the amenities of Woking town centre. Each apartment has also been provided with a cycle rack further encouraging active travel.
Fast broadband is being provided by ThamesWey as part of the rent and is available throughout Harrington Place so residents can remain connected to their Wi-Fi anywhere in the building.
As with all ThamesWey tenants, anyone renting at Harrington Place will qualify for the Earn Your Deposit scheme. The scheme gives tenants a financial contribution towards a deposit to buy their own home and supports ThamesWey aim to build sustainable communities.
Mark Rolt, ThamesWey's Chief Executive Officer, said "Harrington Place encapsulates our ambition to develop a built environment that meets the needs of the community, whilst taking every opportunity to contribute positively to the environment in doing so."
For more information about the development and the apartments, please visit the Harrington Place website.