ThamesWey's long-standing home energy efficiency service 'Action Surrey' delivered it's largest home improvement project to date in 2021 – 'Green Jump Surrey'. Read how one Surrey resident has benefitted from free insulation to reduce their heating bills and carbon dioxide emissions.
Trevor applied to Green Jump Surrey to improve the energy efficiency of his 1920s semi-detached property in Guildford.
His property, like others of this age, was built with solid brick walls which are very energy inefficient and lose heat easily. External wall insulation (EWI) was therefore identified by Action Surrey's energy advisors as the most effective way of improving the home's energy efficiency. Trevor was referred to one of Action Surrey's installation partners who carried out the works on the property completely free of charge.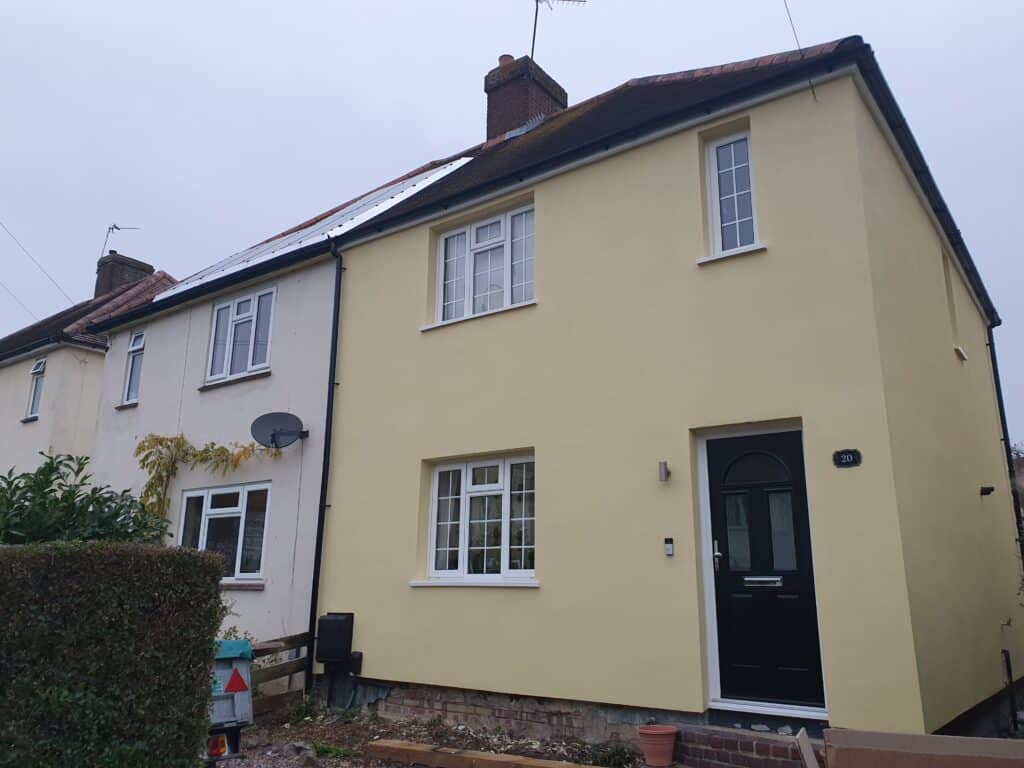 Here's what Trevor had to say about the process:
"Overall, I'm really happy with the quality of the work completed at my property. We used to have terrible damp problems here, mould would latch on to freezing cold walls to the extent that furniture needed to be moved well away from wall, so it didn't collect condensation too. It has only been a month since the insulation has been installed and there has been an instant improvement. The condensation mould has been eliminated in such a short space of time, even though its winter, which is absolutely fantastic.
The house would normally drop down to 15 degrees Celsius by the time we woke up in the morning, but now the temperature barely reduces at all – it's still 19 degrees after a cold night without the heating on! Although it has not been long enough to see an entire winter's heating bills, we are expecting a significant reduction in our gas consumption. It has come at a great time with the massive energy price rises we are seeing, so I feel very lucky to have got the insulation when I did. It should also keep my home cooler in summer, which will be a welcome relief during those rare heatwaves. The insulation has a 40-year lifespan so I am looking forward to reducing my heating bills and living in a more comfortable home for a long time to come.
I found the Green Jump Surrey application process very easy too. I could do it all online and even though I am not the best with a computer, it was simple and straightforward. The energy advisors at Action Surrey were always on hand to help if I had any queries and made sure I understood the process. The offer of all this free improvement work, which cost over £13,000, sounded too good to be true, but I am so glad that I did apply as it was exactly as advertised.
Besides the improvements that the external wall insulation has made to my comfort, mould problems, heating bills and carbon footprint, the outside of my home has been completely transformed. The house has gone from one of the most tired looking properties to one of the best looking on the close with a really crisp and neat rendered finish. I also took the opportunity to replace my old cast-iron guttering and ageing facias, so the house really has transformed.
Overall, I would really recommend the Green Jump Surrey project and external wall insulation. Whilst there was some waiting involved and disruption during the installation, it was so worth it to have this fantastic improvement to my home made free of charge, which I will benefit from for decades to come."