ThamesWey's new purpose-built energy centre at Poole Road has been showcased in Issue 45 of the Construction View magazine.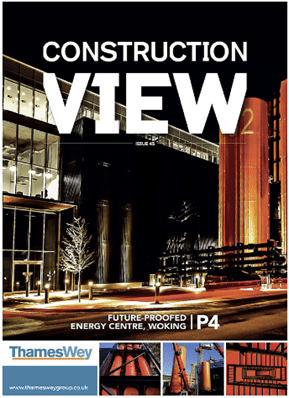 The article describes the journey from the planning phase in 2016. Increasing demand for energy resulted in a need for a second energy centre in Woking to supply district heating and cooling to commercial, retail and residential developments, while accommodating ThamesWey's decarbonisation plan.
Forward-planning and flexibility are key aspects of the 50-year building design in an ever-changing and unpredictable future energy market. ThamesWey's Chief Operating Officer, Sean Rendall commented on the challenges posed by future energy supply and demand: "Decarbonising the UK's energy means we don't know for sure what technologies we will be using in 20 years… let alone 2070… The entire brief was about future-proofing."
Also discussed is the new office headquarters, situated above the energy centre itself, where staff have been based since January, creating a cohesive workplace, as is especially important following the challenges posed by Covid lockdowns. Above the office is potential for expansion of up to 17 storeys and the building is future-proofed to enable this in the future.
The black and orange colour scheme representative of ThamesWey's branding is noticeable throughout the energy centre and office environment and the article details how these are incorporated into the design both internally and externally.
Read the full article below.
---